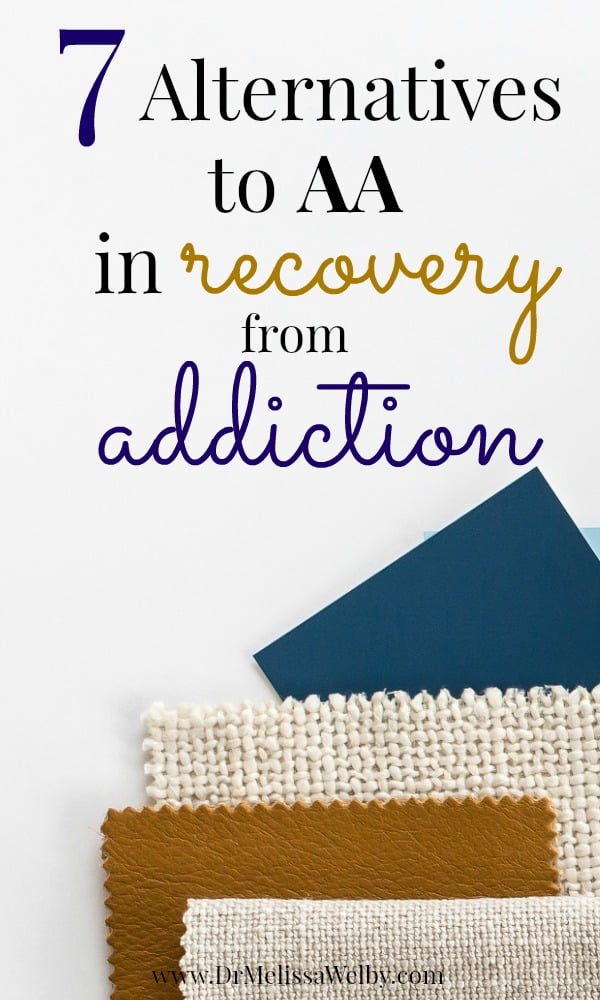 Alcoholics Anonymous (AA) has helped countless people in their recovery from addiction but one size does not fit all with healing. The messages of AA don't resonate with everyone and it's important to know alternatives to AA exist. Healing and recovery are lost on some that become distracted by what they interpret as religious aspects of AA. This post is about the other options for a self-help addiction recovery program.
The more alternatives to choose from, the greater the chance that people will find a program they identify with. Recovery will still be hard but may be easier to start when it's the right fit.
Keep in mind, AA is the most prolific addiction recovery program with multiple meetings every day all around the world. It is by far the easiest to attend if you are looking for daily, free, in-person support. However, it is not the only game in town.
This post does not cover medication-assisted recovery. This is an important option for many people on their path to recovery and will get covered in a separate post.
SMART Recovery:
SMART Recovery (stands for Self-Managment And Recovery Training) describes itself as a "science-based secular alternative" and is not specific to alcohol, but for any type of addiction (including gambling and other non-substance related dependencies).  It has face-to-face and daily online meetings in addition to a 24/7 chat room and online message board.
SMART recovery views addiction as a bad habit and not a disease.
The purpose of SMART Recovery according to their website:
To support individuals who have chosen to abstain, or are considering abstinence from any type of addictive behaviors (substances or activities), by teaching how to change self-defeating thinking, emotions, and actions; and to work towards long-term satisfactions and quality of life.
SMART Recovery works as a 4-point recovery program based on cognitive-behavioral techniques that teach how to change self-defeating thinking, emotions, and actions. The 4-point program covers building and maintaining motivation, coping with urges, managing thoughts, feelings, and behaviors, and living a balanced life.
The SMART Recovery Toolbox provides a variety of methods, worksheets, and exercises to help support you through addiction recovery. Find them here.
Alternative to Alanon:
In addition, Smart Recovery has a friends-and-family section so they can get support and be better prepared to help their loved one.
Refuge Recovery:
Refuge Recovery is a mindfulness-based recovery method founded in Buddhism and focused on compassion. Some of the steps in Refuge Recovery are similar to AA's like taking an inventory and mentorship.
We do not use Buddhism as a religion, but as a liberating approach to a more wholesome life, while remaining thoroughly engaged with the world and cultures in which we live.
From their website:
Refuge Recovery is a non-profit organization grounded in the belief that Buddhist principles and practices create a strong foundation for the addiction recovery process. Wisdom and compassion enable those struggling with any form of addiction to become more mindful of their mental processes while also developing a deep understanding of the suffering that addiction has created and compassion for their own pain. The mission of Refuge Recovery is to support those on this path of recovery by building an extensive and comprehensive network of Refuge Recovery groups, meetings and communities that practice, educate and provide Buddhist-inspired guidance and meditations for anyone seeking recovery from addiction. We hope to serve you, and meet you on the path.
Refuge recovery has a separate women's recovery program!
Refuge Recovery has a women's recovery section called Women's Recovery and Refuge Online (WRRO) which offers support services for all women (including those that self-identify as women) to ease the suffering caused by addiction.
Women for Sobriety (WFS):
An abstinence-based program encouraging spiritual and emotional growth as a way to help women discover a happy new life as they recover from substance use disorders. This program aims to address the emotional needs of women and uses positive reinforcement and thinking, relaxation techniques, meditation, diet, and exercise.
WFS has in-person support meetings, a message board, chat room, phone support, and even a yearly conference to go to.
WFS believes that having a life-threatening problem with alcohol and/or drug use is not a moral weakness, it is the symptom of a serious disorder which demands rigorous attention to healing. Founded by a sociologist who related over-reliance on substances to the loss of identity many women feel with competing roles in society, WFS believes that guilt, depression, and low (or no) self-esteem are common problems women experience for which substances have become the primary coping mechanism.



Here are the 13 acceptance statements from the Women for Sobriety website:
1. I have a life-threatening problem that once had me. I now take charge of my life and my well-being. I accept the responsibility.
2. Negative thoughts destroy only myself.
My first conscious sober act is to reduce negativity in my life.
3. Happiness is a habit I am developing.
Happiness is created, not waited for.
4. Problems bother me only to the degree I permit.
I now better understand my problems. I do not permit problems to overwhelm me.
5. I am what I think.
I am a capable, competent, caring, compassionate woman.
6. Life can be ordinary or it can be great.
Greatness is mine by a conscious effort.
7. Love can change the course of my world.
Caring is all-important.
8. The fundamental object of life is emotional and spiritual growth.
Daily I put my life into a proper order, knowing which are the priorities.
9. The past is gone forever.
No longer am I victimized by the past. I am a new woman.
10. All love given returns.
I am learning to know that I am loved.
11. Enthusiasm is my daily exercise.
I treasure the moments of my New Life.
12. I am a competent woman, and I have much to give life.
This is what I am, and I shall know it always.
13. I am responsible for myself and for my actions.
I am in charge of my mind, my thoughts, and my life.
WFS suggests to spend 15 minutes each morning reading and thinking about the acceptance statements and recommends to choose one to "use it consciously all day".  Close out the day by reviewing and reflecting on your chosen acceptance statement, how you applied it, and how it affected your day.
The Hip Sobriety Project

–
The Hip Sobriety Project is an 8-week coaching course that includes readings, worksheets, and weekly small-group conference calls. It is an individualized program designed to meet you where you are at in your addiction recovery process. This program is not free but there is a scholarship program for highly-motivated individuals from a disadvantaged background.
From the website:
Over the course of 8 weeks, you'll be exposed to a wide-range of tools, teachings, and practices, pulled from all schools of thought and the most recent scientific findings in addiction recovery. The information is delivered in a thoughtful, easy-to-digest manner, and is accessible to you forever.

Through weekly lectures, accompanying workbooks and worksheets, daily emails, daily and weekly exercises, and a vast resource library, this course delivers participants the quintessential field guide on recovery that is not available anywhere else. You'll walk away empowered with knowledge, and a personalized Hip Sobriety recovery map so that you can put what you learn to work for you and know what step to take, when.
Rational Recovery:
Rational Recovery is an abstinence-based addiction recovery program founded by Jack Trimpey, a recovered alcoholic and social worker. It is based on the Addictive Voice Recognition Technique (AVRT), which teaches recognition of the "addictive voice" that tells you to seek drugs or alcohol.
Addiction is not seen as a disease and Rational Recovery rejects the idea of being "powerless" over addictive impulses. With AVRT, a person gains awareness of thoughts and triggers that can cause cravings (named "The Beast") and through that can override addictive impulses in order to remain abstinent.
There are no meetings. Their website includes instruction on self-recovery from addiction using AVRT instructional videos, downloadable PDF's, a book, and AVRT teleconferences.
The goal in AVRT-based recovery is to live comfortably with residual addictive desire, and not to silence or stave off your Addictive Voice. You should welcome the AV as a sign of health, and not as a threat, because your Beast is utterly powerless to act independently of your will.
Moderation Management:
This program is not based on abstinence from alcohol but instead on learning how to moderate and control problem drinking behaviors. They use a 9-step program geared toward helping members find balance and moderation with alcohol and also with life.
The program provides education, guidelines, exercises, goal-setting, and self-management techniques through their in-person meetings or online support.
Their website explains what Moderation Management is:
Moderation Management (MM) is a behavioral change program and national support group network for people concerned about their drinking and who desire to make positive lifestyle changes. MM empowers individuals to accept personal responsibility for choosing and maintaining their own path, whether moderation or abstinence. MM promotes early self-recognition of risky drinking behavior, when moderate drinking is a more easily achievable goal. MM is run by lay members who came to the organization to resolve personal issues and stayed to help others.
Some people find it is more difficult to moderate drinking than it is to abstain completely. MM estimates that 30% of attendees will go on to an abstinence program.
LifeRing Secular Recovery:
LifeRing provides a network (in-person and online) for people who want to be free of addiction. A requirement for membership is a desire to remain abstinent from alcohol and drugs.
Per the LifeRing website:
In LifeRing, we offer each other peer-to-peer support in ways that encourage personal growth and continued learning through personal empowerment. Our approach is based on developing, refining, and sharing our own personal strategies for continued abstinence and crafting a rewarding life in recovery. In short, we are sober, secular, and self-directed.
The principles of LifeRing are sobriety, secularity, and self-help. LifeRing "supports recovery methods that rely on human efforts rather than on divine intervention." They believe the key to recovery is the individual's own motivation and effort.
Books to help with addiction recovery:
There are many great books about addiction and recovery and here are a few. For a full list of my recommended mental health books look here.
[amazon_link asins='0525537236,B01N8YA7TS,0385315546,1622034295,0615942210,1455554588,1250141923′ template='ProductGrid' store='drmelissawelb-20′ marketplace='US' link_id='3bb76da6-f439-11e8-81e5-23220b9bcfad']
More posts about addiction:
Alcohol Use Disorder: Do you have a drinking problem?
Alcohol Dependence and Withdrawal: Are You at Risk?
Naloxone: The antidote for opiate overdose
Will a Prescription Monitoring Program Help Combat Addiction?
Find the program that works for you. There are many options for recovery with different philosophies and approaches, in-person meetings, online support, books, etc… AA meetings are practically everywhere but aren't for everyone. Don't let that hold up your healing.
Please share this list of resources and help spread the word about alternative programs so we can reach the people that may need this.
What have you, or a loved one, found to be helpful for addiction recovery? What programs, books, or resources am I missing? Let me know so I can add them to the list.
Don't miss another post!
Subscribe to get our latest content by email.
Please follow and like us: